Overview:
Though you enhance the taste of the dishes through it, can't ignore the garlic benefits for healthy hair growth. Garlic has some medicinal properties that can cure so many ailments.
Garlic is used as a therapeutic agent. It is a remedy for cardiac problems, intestinal problems, an antiseptic for wounds.
In Greek studies usage of garlic in food eating, as a medicine due to its antimicrobial, antiprotozoal, antifungal, antithrombotic, analgesic, coagulant, antipyretic, antioxidant, and anticarcinogenic.
Garlic has been tremendous favors the growth of your hair also. It prevents scalp infections and itching.
Garlic nutritional benefits are immense. It contains minerals like potassium, magnesium, iron, and calcium. Your hair will become healthy if you use garlic essential oil for your hair's health.
Raw garlic can be extensively helpful for treating hair loss. So, the raw garlic has vitamin C, this will protect your hair from free-radicals.
In other words, garlic has many essential hair growth stimulating benefits.
Garlic's benefits for your hair growth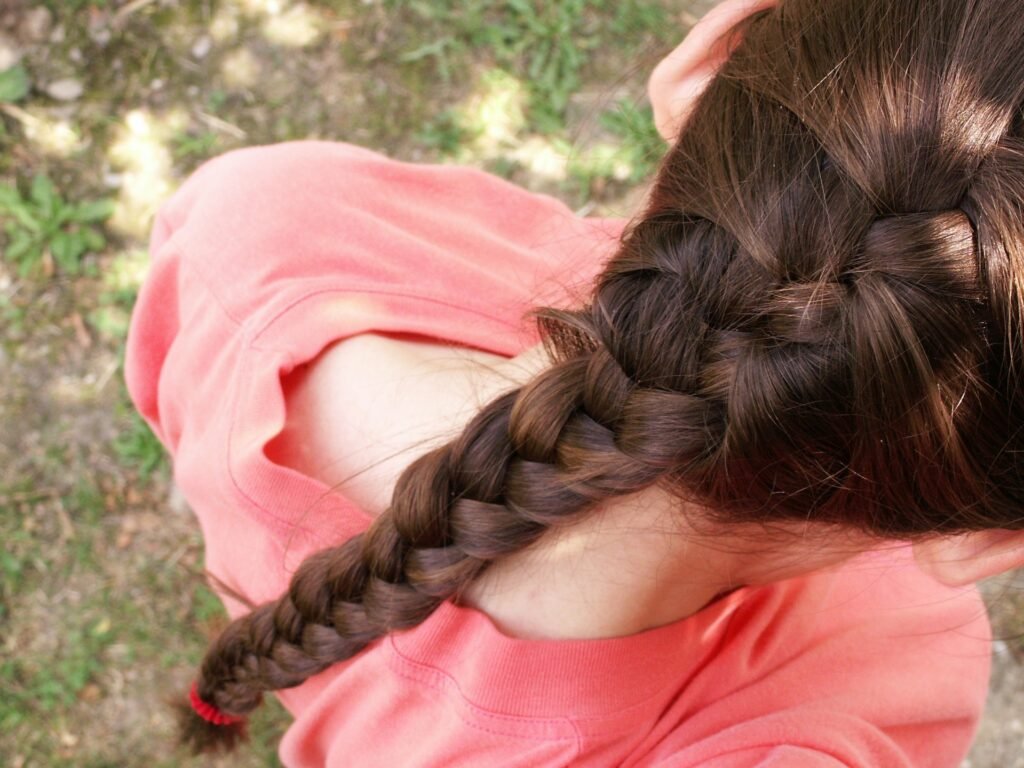 1. Helps in increasing hair growth
Garlic promotes hair growth because it has so many nutritional benefits to give.
Minerals and vitamins are present in much quantity in raw garlic. Such as vitamin B6, and vitamin C. In minerals selenium and manganese which increases the growth of healthy hair.
2. Prevents scalp infection
To maintain a healthy scalp, one needs to prevent bacterial and fungal infections.
In fact, it becomes problematic and making an itchy scalp later on. So garlic usage on your scalp will eliminate any bacteria or fungus-like Malassezia to grow, due to its antimicrobial and antifungal property.
Garlic cleans your hair follicles, provides strength to it, and decline hair loss.
In a study of 2016, it is found that garlic protects the keratinocytes from UV radiations. These keratinocytes produce keratin, a hair protein. These are present in the outer layer of the scalp and the hair follicles.
One more study in 2007, publicize stating that people suffering from alopecia areata when use gel of garlic to the bald patches had promoted hair growth.
The use of curd or other ingredients mixed with onion to make hair mask has also been some beneficial home remedies to promote healthy hair.
Lets try hair pack made with garlic for promoting healthy hair.
How to use garlic for a hair mask
To make a hair mask, garlic oil is used as a treatment.
Sulfur is also present in the garlic, which provides irritation to the skin.
But, it is important to keep one thing in your mind, that garlic cooking and garlic essential oil is different. There is an alcohol present in garlic essential oil, which is used for storage.
So, to avoid the irritation of pure garlic oil, mix it with coconut or olive oil.
Prepare the conditioner of garlic oil at home by following the simple steps.
Take some fresh cloves of garlic, one carrier oil such as coconut or olive oil.
Warm the oil in a pan, and crush the garlic in a blender.
The move the garlic in the pan, unless the smell of garlic starts coming, you don't have to cook it, right.
Allow the pan to be cool, and remove it from the stove.
Put this mixture in a glass jar, by using a strainer, and also remove the pulp.
Better to choose a dark glass jar, the longevity of the mixture will be enhanced.
How to make home prepared garlic conditioner
Take 2 spoons of prepared garlic mixture oil, and massage it gently on the scalp.
Leave it for a minimum of 10-15 minutes, and cover it with a towel or hair cap.
Then wash it with a regular shampoo.
Do this massage two times a week.
Different tips to use garlic for hair growth
Use of Garlic with honey for hair growth.
Make a paste of chopped and blended garlic and honey for promoting your hair growth. Use this paste on the scalp for about half an hour.
Then wash it off with water. Your hair growth will be stimulated.
Use of garlic with coconut oil for declining hair loss.
Take warm coconut oil and chopped garlic oil. Mix it and make a paste, and apply the mixture on the scalp and the hair and leave for half an hour.
After then, remove it by washing.
Garlic with onion oil works in preventing hair loss.
Use of Garlic with ginger to accelerate hair growth.
Take the crushed garlic and ginger. Make it a paste.
Add this paste into a carrier oil and heat it. Heat unless the solid pulp starts turning brown.
Then stop heating after the brownish color of pulp appears. Remove the solid pulp.
Allow the mixture and extract of garlic-ginger pulp and a carrier oil to cool.
To increase hair growth, it's suggested to apply it on the scalp and massage it for 15 minutes for better results.
Cover the entire length of your hair with this mixture. Wash it off after 30 minutes.
What Side effects of Garlic are common
People, who have sensitive skin, are more prone to the harmful effects of garlic. As such home remedies are safe and secured for everyone, but exceptions are always there.
Using garlic for your hair or any other parts of the body can be risky as well. When garlic is applied to the skin, chemicals can harm the skin.
So, better one should always consult with the doctor, before using it. Raw garlic can irritate the skin. The essential oil of garlic may also irritate the skin and eyes.
Quick tips to reduce hair damage
To avoid drying of your hair, wash it at a minimal rate. Don't wash your hair excessively.
 Soak your hair naturally. Avoid using a blow dryer.
To style your hair, limited use of heat styling pieces of equipment should be limited.
Use only little products for your hair, because they are made of chemicals.
There are many ways to have strong and shiny hair.
Following are the other home-based treatments, which will also help to make hair healthier and thicker.
1. Coconut Oil helps in increasing hair growth.
Coconut oil can be used. It prevents the breakage of your hair. Reduce the damage, it will result in longer and thicken hair. Coconut oil will also protect your hair from UV radiation.
2. Avocado oil to prevent hair damage
The use of avocado oil will moisturize your hair. It wills heals the hair cuticles and prevent breakage.
3. Biotin for thickness and growth of hair
Biotin supplements enhance the growth and improve the health of your hair.
Biotin plays a valuable role in increasing the thickness and growth of your hair.
Takeaway
Good or healthy hair is a result of a few important things to know. Providing proper nutritional food benefits to your hair.
Avoid usage of harsh chemicals and heat styling tools for your hair. These will damage your hair. In conclusion, Garlic chemical composition benefits your hair growth due to its multiple vitamins, and minerals.
People who have sensitive skin can also do a patch test for themselves. Otherwise, there is no such issue to use garlic for your hair.