We use onion in our kitchen, as an ingredient that grows the taste of our meal. There is also an unknown fact of using onion juice for the healthy growth of hair. It's effective in stoping heavy loss of hair due to a sedentary lifestyle. It is surprising, but it's true!
Now a day's problem of hair loss is with most of us. The reasons can vary but have a single core.
Stressful life, polluted environment, poisonous gases in the atmosphere is a common problem for all of us. We do care for our body and hair but ended up making the wrong choices of hair care products.
Eventually, destroying our hair, due to chemicals present in these branded hair care products. So, one must know effective hair care remedies. The use of onion juice with mixing it with coconut, olive oil, or lemon juice is a DIY remedy at home.
In this article we will be sharing the contents and properties of onion juice which are good for hair growth, how to apply it on the scalp, benefits of onion juice, side effects (if any), different ways to use onion juice.
Hair loss, patches of bald or complete baldness, thinning of hair, hair which not having shine, strength can be treated by applying onion juice on the scalp.
It has all essential minerals, which are good for hair.
---
How onion juice will help in hair growth?
Nutrients in onion juice help in the nourishing of hair follicles, increase the lustrous shine, strength, and volume of the hair.
Here are some properties which makes ineffective:
1. Presence of dietary sulfur
Sulfur present in our body commonly. It helps in making proteins. It also presents in keratin which is the protein in our hair. So the use of onion provides nourishment and it helps in the regret of hair.
2. Antimicrobial property
In case your scalp has got any infection, onion juice can be used. It helps in treating scalp infections. A healthy scalp will have strong follicles that are not infected.
3. Presence of antioxidants
Antioxidants will work against the free radicals. Free radicals stimulate the aging and graying of hair, thinning, and loss of hair as well.
By using Onion, antioxidants will decrease the free radicals chemicals in the body and cancel their effect on destroying hair follicles.
How to use onion juice for promoting hair growth
If you try this home remedy, apply onion juice 3 to 4 times per week. After knowing so many facts about onion for good hair, one will have an urge to try it on.
Here are some ways to use onion to make juice
Take four to five onions, peel, and chopped them.
Using a blender or juicer, squeeze the onions, to make onion juice.
Now, use this onion juice on your scalp.
If you are irritant by the smell of onion, add lavender oil, rosemary essential oil, or tea tree oil.
Those who don't want to make it at home can buy this form market.
As such there are numerous commercial products, which are made of onion juice is available in the market.
Benefits of Onion Juice to increase Hair Growth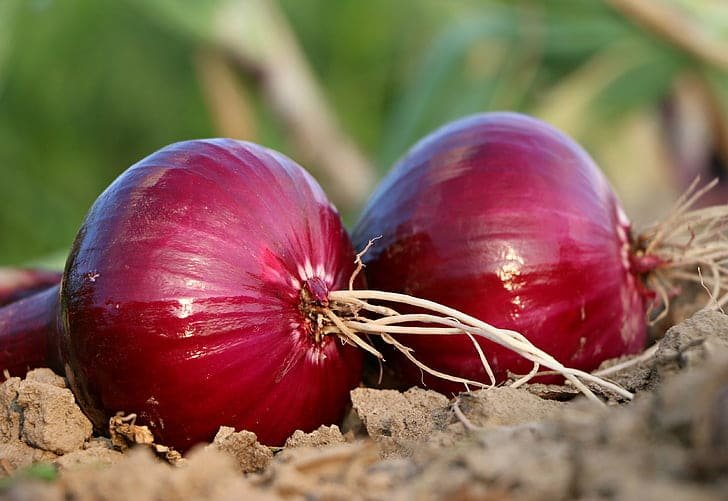 1. To enhance hair growth.
In 2018 study was conducted and publicize in the journal of Drug Delivery and Therapeutics, telling about the role of onion shampoo in the growth of hair. They make onion shampoo, and then use that onion extract with organic coconut shampoo, castor, or eucalyptus.
When the onion is used on the skin for 5 or some more minutes, first of all, it doesn't provide irritation to the applicant, hence can be used easily.
More important and healthy results were there with onion juice, hair follicle was rejuvenating, and scalp infection was removed or prevented (if any). More hair growth was seen.
2. Helps in preventing Grey hair
We are not saying here, that onion juice can reverse the grey turn hair into its organic color. All of this can reduce the possibility of hair turning into a gray one.
Onion contains an enzyme called catalase which is an antioxidant. It reduced the hydrogen peroxide at the roots of the hair.
If you want to try it, follow these simple steps- add 2-3 tablespoon onion juice t a bowl, and add 2 tbs lemon juice, apply on scalp and leave it for 30 minutes, then rinse your hair.
3. Rejuvenating broken, split and dry hair
All benefits that you are getting to know, for your hair is because of the compounds present in it.
Onion can improve dry and damaged hair. Compounds like flavonoids, kaempferol, quercetin. These will stimulate more blood flow in the blood vessels. They will dilate the blood vessels, anti-inflammatory, and antioxidant.
There are not as such so many onion hair health-related products, but some are there.
4. Onion juice for Itchy and Dry scalp
The anti-inflammatory property of onion helps someone who has an itchy scalp. To remove dryness from the scalp, this can be done.
Simple and effective ways to use it-
Add raw honey to 2 tbsp. Of onion juice, and apply it.
Add one tbsp. Olive oil to onion juice, apply it.
Add 3 tbsp. Of onion juice to 5 tbsp. Of coconut oil, and apply it.
Use it for around 20-30 minutes, and then wash it with the help of shampoo.
5. To treat Alopecia areata (Spot Baldness)
It is a hereditary condition for hair growth. In this condition, there are patches where hair loss has occurred.
In research conducted, 38 people use onion juice to test its ability to correct hair loss. Researchers apply onion juice to their scalp twice a day, after 6 weeks, approx 90% of the people noticed increase hair growth.
So, it was concluded that the use of onion hair juice is good to cure for treating spot baldness or alopecia.
6. Onion Juice reduces the dandruff
Many people have a severe problem with infection in their scalp. This can be due to fungal infection also.
Fungus name Malassezia furfur, which possibly causing dandruff. Onion also has antifungal properties that can fight against these fungal infections.
As there is not much evidence present for the use of onion juice in fighting against infections, so one should only try.
If you are having severe dandruff problems, visiting a hair specialist will be a good decision or a dermatologist that can treat your scalp infections.
But if one is allergic to onion, he or she should not go with the usage of an onion juice remedy. Sometimes it is irritating to handle the smell of onion, so add a little raised water or lemon juice to it.
But there may be a lot of complicacies. Here are the important ones.
Side-effects of using onion juice
If anyone is allergic to onion, one must not try it. Also, if your skin or scalp is sensitive to an onion, you should not use onion juice for a longer time duration on the scalp.
Using it the whole night is not advisable for anyone. It can cause red areas and itch thereafter as well.
One must do a patch test before using it on the complete scalp. Apply it on the inner elbow, or at the skin behind the ear and leave it for 5-10 minutes, if it develops irritation, one must not try it.
People suffering from skin irritation usually experience bad experience with onion juice to hair. So, it's better to avoid hair mask by adding garlic in it.
Also, take care, that the onion juice must not get into your eyes, because it will develop a burning sensation. If it happens by chance, rinse immediately with cold water.
To have the best effect of onion juice, apply it on your scalp daily. A better way to growing out hair healthily is to have a better diet plan.
In conclusion
As we have seen the clear evidence that hair loss can be prevented by using onion juice. It is advisable only for those who are not allergic to use onions. There is no harm either to your hair.
Maybe it is helpful for some, or not give any benefits to hair for others.
You have to put a nice effort into using onion juice daily twice for quick growth of hair, and good hairline. Online hair shampoo, which has onion is also really available.