Nowadays, getting healthy hair is a new problem in itself. but can you imagine, curd has everything to make your hair stronger and smoother?
look, today due to various scalp issues, regular care of hair has now reckoning as a distant dream. Hair problems are such dandruff, frizz, patches of bald, thinning of hair.
This all has a common reason for heat, constant stress, environmental pollution. Also, using and trying several market products of hair care, add so much of chemicals that later on affect your hair badly.
Even, the branded hair care products are good in treating the symptoms, but not able to cure the problem. That is why using ingredients present in your fridge such as curd is a rich source of nourishment. Curd provides vitamin B5, vitamin D, proteins, calcium, and fatty acids.
In this article, we will see how to use the curd for hair by mixing it with other ingredients for growth, how to apply it, the benefits of curd for hair, any side effects of using curd to your hair.
How curd helps in rejuvenating your hair?
From very early times in India, using curd to smoothens the hair, keep the scalp infections low, and to have frizz-free hair.
This property of curd is due to it's antimicrobial, it has more nutrients rich in vitamin B5 and D, also contains zinc, magnesium, and potassium.
Only curd usage for hair will give shine, smoothen, and frizz-free hair. Using it with other things makes a complete cure for all your hair problems.
Benefits of curd for hair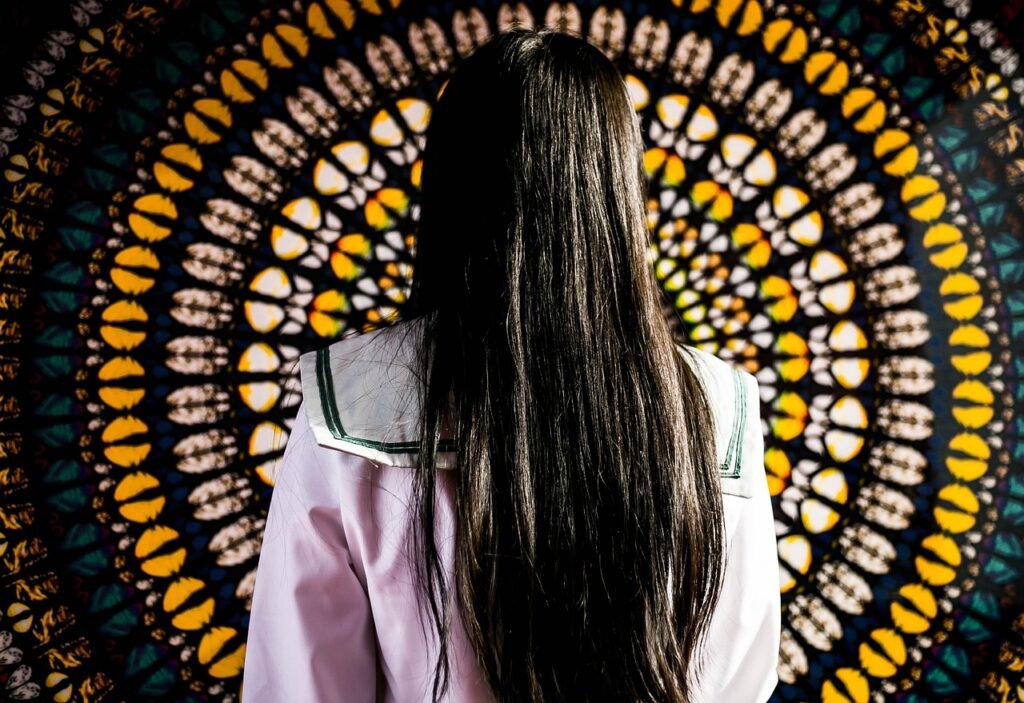 Curd is being widely used to prevent dandruff problems and improve or maintain hair health.
Yogurt has a history of being used as a traditional remedy in the Middle East for preventing hair damage and increase hair growth.
Furthermore, it is quite an abundant source of Vitamins, protein, minerals, calcium, and fatty acids making yogurt an excellent ingredient for your luscious and thick hair.
Here are 4 benefits of usage of curd for hair
1. Curd decreases dandruff.
Contents present in the curd eliminate dandruff from hair. It removes the most persistent scalp problem from the hair.
You can try a hair pack of curd or your dry hair. It includes curd with lemon and a small number of fenugreek seeds as well.
Components: 1 cup curd, methi (fenugreek seed powder) 5 tbsp., lemon juice 1 tbsp.
Mix these ingredients well in the bowl, and apply it with a brush on the scalp. And leave it for 4 minutes.
To have effective results, use this remedy two times for a week in a month. To wash it using an herbal shampoo is a nice idea.
2. Shine and luster adds to your hair.
Due to so many chemicals, and pollution in the environment our hair has lost the shine and luster. To regain the lost shine in the hair, here is the simple remedy of a hair mask. When you will be washing out this curd mask, wash it with any shampoo.
Components: 1 cup of curd, flowers of hibiscus, leaves of neem, orange juice.
Grind the hibiscus flowers and neem leaves in a mixer and later on adds curd and orange juice to it. Apply this mask for 30 minutes. Then wash it with regular shampoo.
3. Strengthening of hair by curd
A right hair mask will be required to strengthen your hair. If you are suffering from the problem of your hair fall, use this hair mask one time in a week.
Components: 1 cup curd, 1 egg, 2 tbsp. Olive oil, 3 tbsp. Aloe vera juice, 2 tbsp. Basil paste, 2 tbsp. The paste of curry leaf.
Curd provides both cooling effects, but also strengthen and makes your hair thicker if mixed it with the right ingredients.
Take a bowl and mix all the ingredients well with curd. Apply this hair mask from the roots of your hair till it ends.
Keep it for an hour and also cover it after applying.
4. Curd cures the problem of dry scalp.
If you are having an itching scalp, then use curd with honey.
As honey is great moisturizers, it will smoothen your hair, leave this hair mask for about 20 minutes. It will bring shines to your hair.
Also, the use of honey with curd, hair mask will provide a cooler effect on your scalp.
Nowadays, more and more people are moving toward home available products for their skin and hair.
People have fed up with the usage of chemicals based products for their hair and face. They are weighing down to herbal-based products and home available or kitchen available products. These have been effective for their care.
One extra tip, not without yogurt, we want to share with everyone, who is reading this article and want one hair solution to have frizz-free, smoothen dandruff-free and healthy hair.
Take a cup of curd, 2 tbsp. Alma powder, 2 tbsp. Reetha powder, 2 tbsp. Shikakayi powder.
Mix all the mentioned ingredients and make a paste. Avoids forming lumps. Use this when it becomes a smoother paste. Apply it for 20 minutes. After washing it with regular shampoo, you will see new shiny and healthy hair. This paste also eliminates dirty and removes it from the scalp and maintains the Ph level also.
How to use curd on hair?
The trick to having the best effects of using curd is to mix it with several different ingredients as well. As we have already discussed the various hair mask, that one can use for damaged hair.
Also, the most applied way of applying curd for hair is to use it as an ingredient in a mixture.
Curd is mix with a little honey, oil of olive, or Aloe vera juice.
Some other ingredients which are plant-dependent can also be used to moisturize the hair. It includes goat nut (jojoba oil), copra (coconut oil), argan oil, and almond.
To remove the frizz, fatty ingredients like eggs, mayonnaise, and avocados are also used.
When you are done with the mask comprising eggs etc with curd for your hair, find another week to apply other ingredients for only 30 minutes.
Wash after it with a regular shampoo.
Curd can also be used to treat the infected scalp. If you have a year-long problem with dandruff, then using a hair mask consist of plant acids.
Lemon juice and cider vinegar are plant-obtained acids. Apply this make directly on the scalp for some minutes, and then rinse it with water.
Additionally, people find more sources that benefit in cases of dry scalp and promoting hair growth as well.
Side-effects of usage of curd on hair.
Until now we have seen the benefits of using curd as a remedy to all your hair problems. But, it also provides some negative effects too.
In case, if someone has a milk allergy, avoid using curd. Some of us are irritant by its smell, also scalp and hair can become greasy.
So to be aware of these side-effects, before using it regularly.
In other words, it works quite differently.
So, better to do a patch test for yourself before applying curd to the scalp. First, apply a small amount of hair mask on your inner elbow for 30 minutes.
See, if the skin at that point becomes inflamed. If this happens, don't try it for your scalp, it will be advisable.
In conclusion
Curd has nutrients and metals like magnesium which are good for hair. So there are only benefits to use curd in your hair mask.
Though more studies and research as such are not available, people prefer home remedies or trust these DIY remedies.
It is important to check the quantities or amounts in which ingredients should be good for your hair, to have great results from the curd pack.